A few weeks ago I replaced my good old DrayTek Vigor with a FortiGate WiFi. Because I have now two different Networks (one WiFi and the other Wired-LAN), the TimeMachine Backup does not work.
This has a simple background: TimeMachine uses Apple's Bonjour protocol to find backup-volumes on the Network. Bonjour uses multicast, which is not routed between different Networks.
The solution is very simple, but you have to find it because it is not activated by default:
1. Go to "System" -> "Admin" -> "Settings" and activate the checkbox on "Multicast Policy", then click "Apply" to save the changes.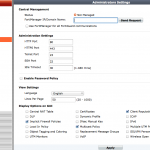 2. Go to "Policy" and click on the new entry "Multicast Policy".
3. Click on "Create new" to add a multicast policy from LAN to WLAN and one from WLAN to LAN with the destination "Bonjour".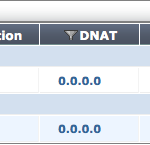 The destination "Bonjour" is already configured on the FortiGate. If not, Bonjour uses the multicast-address 224.0.0.251.
That's all, you should now be able to find your TimeMachine Backup and all your other Apple-things like AirPlay, iTunes remote etc…